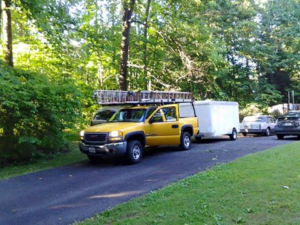 Today's post is submitted by Patrick, a high school sophomore who attends Mount Ararat Baptist Church.
It's the last day of our missions trip in Clendenin, West Virginia. We were surprised by how little activity there has been in town these four days. We expected to see scores of relief workers helping to rebuild the town, but saw only a few. It seems these people and their struggles have been forgotten. Most of the work was being done by homeowners who were able to do the work themselves. Those who can't do the work themselves and can't afford to move, live in tents. So much more of God's work to do here! I am sad to leave so early and I think that I am speaking for all of us when I say that we are proud to have been able to be part of helping repair Mel's house.
---
Today's post by David, an 18 year old attending MABC. David participated in Trip#1 and has participated with CRM on a local project (handicap ramp) in Fredericksburg. Plus he's attended Impact! previously.
Here's what he has to say: I came to serve the people whose houses need repair. I want to show them love like Jesus showed love to me. I really enjoy the hard work and I am learning how to install insulation, how to put up drywall and use different tools. The people here need a lot of help and appreciate the work we do. You are welcome to join us, CRM. Our teams are great and feel like family.
---
Today's entry is by Jennifer who is a member of Horizons Church. "What a privilege it has been to just show up and have someone take us and plug us into a team. It did not matter if we knew what to do or not or even who we were working with. In no time we knew both!Thank you for making it easy to do hard work."